ValueJet

Smart Printing Technology
MUTOH incorporates Smart Printing Technology into every ValueJet printer to enhance the overall printing experiences. From superior ink technology that is more environmentally friendly to remote printer monitoring applications for your smart phone, MUTOH has the technology. MUTOH makes it easy to manage your printer's color and print repeatability; and each ValueJet printer includes wave pattern ink capability that helps eliminate banding. Smart Technology paired with MUTOH's award winning printer platforms is the best solution for today's busy print professionals.

DropMaster
The gap between the print head and the print media surface varies with the thickness of the media. Knowing the media thickness and consequently the drop-throw distance between print head and media surface, DropMaster Technology is capable of recalculating automatically and adjusting the bi-directional drop fire timings. DropMaster Technology is a revolutionary print automation technique.

This DropMaster Technology enables an overall increase in image definition and smoothness, and also eliminates the need for cumbersome and time consuming media dependent head adjustments, and leads to significant time savings.


Intelligent Interweave
Intelligent Interweave offers many printing effects to improve the image quality. MUTOH further enhances the original print effects, and they allow the reduction and elimination of the banding that is the primary weakness of Ink jet printing, creating a fine tuned balance between print speed and quality.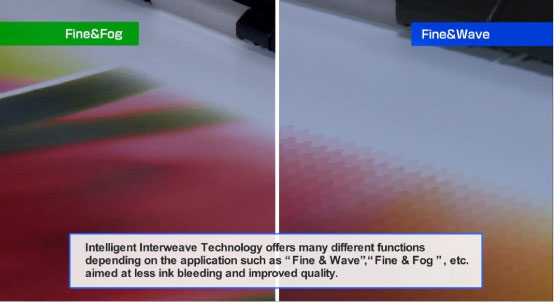 * Setting on the printer has 5 patterns.

ValueJet Status Monitor
The ValueJet Status Monitor is light-weight software exclusive to MUTOH. It offers remote control and monitoring for your MUTOH printers via Wireless LAN on your portable smart devices. The ValueJet Status Monitor maximizes the performance of the MUTOH printer and makes your workflow easy. It also utilizes MUTOH's ColorVerify process control system to monitor your color output for consistent color production print after print.


SpectroVue VM-10
The SpectroVue VM-10 is a compact spectrophotometer developed for on-printer color measurement. The VM-10 connects directly to the print head, helping to ensure greater productivity by automating the tedious task of printing and measuring color targets by hand.
Use the VM-10 to calibrate your printer, build ICC profiles, and perform process control.


Colorverify
The ColorVerify is a process control system to monitor your color output for consistent color production print after print combined with the SPECTRO VUE VM-10 spectrophotometer option. ColorVerify is able to create a baseline of color samples based on the particular types of media or ink.
ColorVerify/G7 is a G7-based process control solution that helps ensure consistent color reproduction over time, between multiple printers and over long print runs. It is an internet-based service that leads to a higher level of process control.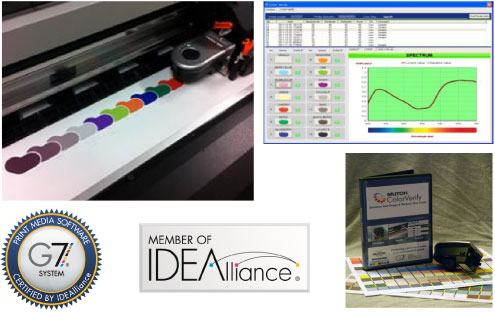 Showing 1 to 4 of 4 (1 Pages)